—Rates are lower, and in-house finance experts know where to find the money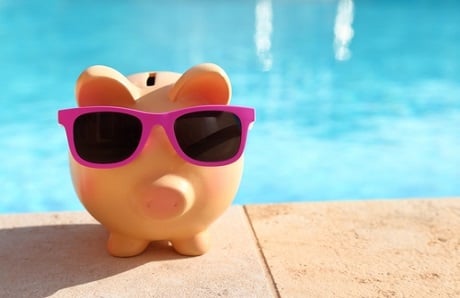 Building a new swimming pool is one of several kinds of home-improvement projects that observers say will increase in 2017. A recent survey by LightStream, a division of SunTrust Banks Inc., indicates 59 percent of homeowners expect to spend money on home renovation projects this year.
One likely reason for the upswing: Across the country, it's now easier than it has been in years to acquire financing for a home-improvement project—such as adding a backyard pool—according to building contractors and industry experts who help arrange these types of loans.
"Financing has definitely loosened up," says Kimberly Quintal of Blue Haven Pools & Spas in Jacksonville, Florida. "One or two years ago it was harder to get a loan. If you went shopping for a pool two or three years ago and weren't able to get financing, you should go back now and revisit it. We're seeing a lot of that with our clients."
However, this increase in the availability of home-improvement financing doesn't mean that the process for obtaining a loan is any easier, though. Putting together a loan isn't rocket science, but navigating through multiple financial institutions and various kinds of loans and terms can take patience. Above all, it often requires a level of industry knowledge that not all homeowners possess.
Making it easier to borrow money
To streamline the financing process for homeowners, some home-improvement companies provide in-house support to their customers. Some pool builders around the country offer an alternative to having customers wade through the maze of options available from banks and credit unions.
For example, Blue Haven Pools offices around the U.S. provide an in-house professional to help potential buyers obtain financing. This individual reviews each pool-loan credit form, obtains the applicant's credit scores, helps determines the most appropriate lenders for each case, and coordinates the loan applications.
"Our goal in this is to marry would-be pool owners with lenders from around the country that offer the best rates and terms available," says Nancy Miller, financing specialist for Blue Haven.
Of course, most pool builders offer you the option of obtaining a loan from a local bank or lender you have found on your own. That's fine. Either way, the good news is that loan rates are better than they've been in a decade, and more people are qualifying for loans that will land them a new backyard retreat.
Kinds of pool-financing options
What's the best path for financing a swimming pool? Everyone has different financial circumstances and credit histories. In addition, each project has different costs. Depending on the state you live in, financing opportunities for home improvement projects also vary.
Generally, the first step is to work with a pool builder to determine the total cost of the pool you want. You will also want to determine how much—if any—money you can pay out of pocket.
Next, you will need to investigate the maximum loan amount for which you can qualify. The first place to start is to know your credit score. Based on your personal financial history, banks will examine your credit history as rated by three national credit bureaus: Equifax, Experian, and Transunion.
Your credit score—which can range from a low of 300 to a high of 850—helps determines the interest rate you will pay. The amount of money and the time (terms) you want to take to pay back a loan also affects how much you will pay in interest.
Two kinds of bank loans are available: unsecured (or "signature") and secured. An unsecured loan does not require proof of collateral (personal financial assets) from the borrower. Instead, approval is based on your credit score and the lender's perceived ability for you to repay the money.
Because an unsecured loan carries a greater risk to a lender, it usually comes with higher interest rates. Interest is the percentage of the loan that the lender charges annually, over and above the original loan amount.
On the other hand, a secured loan requires a borrower to put up collateral as a form of security. Typically, borrowers use the equity in their home. This financing scenario decreases the risk for the lender, since the bank can take ownership of the collateral if a borrower defaults on the loan.
However, the silver lining here benefits the borrower. Because the risk has essentially shifted to the borrower, financial institutions will offer lower interest rates on secured loans.
The benefits of using a financing professional
Again, anyone looking to enhance their backyard with an inground swimming pool can talk to someone at their bank or credit union about the process of financing a home addition.
However, you can widen your scope of pool financing opportunities by taking advantage of the expertise from a pool company with a dedicated finance specialist.
With their assistance, you can obtain a free assessment of your credit, and have access to someone to funnel your application to the best-suited lenders around the country. You can also discuss a range of issues, from using a "hybrid" loan to finding practical solutions for overcoming a weak credit history.
Assessing your credit
"As finance specialists, our job is to make matches between lenders and borrowers," says Nancy Miller, who facilitates loans for Blue Haven Pools offices around the country. "We look at your credit and financial background, and we determine which lender from our national network will be the best fit for your profile and funding priorities."
By pre-qualifying pool buyers, Miller can evaluate if it's best to pursue a secured or unsecured loan.
"I talk about credit with customers, what they are looking to finance, and if they are looking to put anything down," she says. "Then, instead of shot-gunning them to a lot of different lending sources they might not be qualified for, I'm trying to place them with the best loan program."
Finding lenders for unsecured loans in the $30,000 to $50,000 range is common, according to Miller. What's a greater challenge is to finance $60,000 to $80,000—especially for an unsecured loan without collateral—but Miller says she has made those loans happen.
A wide range of lenders
Miller works with applicants all over the country, and she connects potential pool buyers with lenders that may or may not be located in the same region. This more expansive, diverse network of lenders provides more options and greater flexibility for financing—especially more so now than a decade ago.
"Back in 2007 and 2008, the best interest rate out there for an unsecured loan was 14.99 percent for 15 years, and the maximum amount was $30,000," she says. "Now, you can get 15 years at 6.5 percent, up to $50,000."
Why? One reason is that credit has loosened up throughout the U.S. finance industry. Another is that Miller works with institutions that specialize in home-improvement financing. Their focus on this specific category for lending is different from most traditional banks.
According to Miller, if you approach your bank looking for similar rates and terms, you will be hard-pressed to find an unsecured loan for a term longer than five to seven years at a similar interest rate.
Overcoming a weak credit score or other financial challenges
Have a less-than-stellar credit history? The easiest way is to qualify for an unsecured loan is to include a down payment. For example, if you're looking at buying a $40,000 pool and can afford $15,000 toward the purchase, you can usually finance the balance—even with a credit score in the low 600s.
Or, maybe you have a great job with a high salary and can easily afford regular pool payment—but you happen to have other loans on which you are paying and you have not gotten around to increasing your credit lines. So some lenders may be a bit wary. But the right one will evaluate your history and income and take the whole package into consideration.
"We recently had a client who—before coming to us—had applied with another lender for $40,000 and was declined due to guidelines for maximum debt ratio," says Mike Fratrik of Blue Haven Pools in Orlando. "But our loan specialist saved the day. She was able to place him with a program that not only met his financial needs, but eliminated excessive credit pulls by a bunch of other lenders."
For some lenders, time can heal all wounds, Miller explains.
"They look at the highest unsecured limit you've ever had. How long have you had it? How have you paid it? House and job residence stability is really good. If you've only been on your job a year here and a year there that can hurt you. But if you've been there for five or six years that's a different story."
Hybrid loans
Everyone has a different amount of money they're comfortable paying back on their loan each month. However, it's possible that the finance rates and terms for which you qualify don't cover the full amount of the new pool you want.
If that's the case, consider a two-pronged approach. If the monthly payments add up to a number that fits your budget, you may be able to separately finance individual components of your project.
Lenders don't like "split tickets." That means it's unlikely you will be able to finance one pool with two separate lenders. However, it is not uncommon to use two lenders to cover different elements of a project.
Over the years, Steve Treese, president of Blue Haven Pools National Management, has witnessed many examples of how this approach can deliver results for borrowers.
"For example, you could finance the construction of the pool with one lender, Treese explains. "Then, use a different funding source—like another lender, cash down payment, or credit cards—for the decking, the landscaping, or an outdoor kitchen that's part of your overall project."
Keep in mind that only some home improvement contractors accept credit cards. Those that do may have limitations on how you can use them for your contract payments, and additional restrictions may apply depending on the state where you live.
Final thoughts
Increasingly, homeowners are able to find sources to finance a new backyard pool. Pursue the means of securing a loan in a manner with which you feel most comfortable.
Particularly if you've been considering a new pool for the last several years, made some inquiries, but couldn't find financing—it's time to reach out, again. Talk to your pool builder about financing programs with which they can help you. The availability of financing is better right now than it has been in a long time.