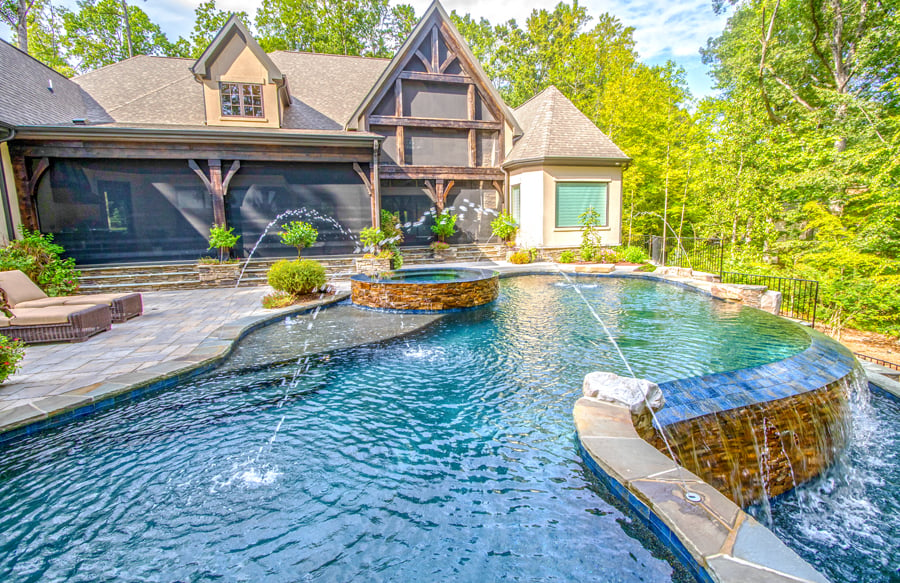 Appealing options to enhance outdoor style and tranquility
Get your zen on with a swimming pool and backyard that fosters ultimate relaxation.
While the presence of water in a beautiful setting is inherently peaceful, you can up the serenity quotient with the right selection of features,
Like any facet of outdoor design, ambiance takes planning. It doesn't happen by accident. Creating a blissful retreat requires effort and investment. Your pool professional knows the way there and is ready to guide you through the creative process.
What pool and backyard elements do you find evoke an almost spa-like feeling? What features will make it easier for you to chill and let your tensions drift away?
Identifying your preferences will help guide you and your pool builder as you make important and lasting decisions.
As a prompt for your journey toward creating a rejuvenating oasis, here are some features sure to foster a stylish, relaxing atmosphere.
Starting with the pool
In terms of pure ambiance, the swimming pool itself tops the list. Nothing says leisure better than a well-designed pool. It's the feel-good epicenter of your private backyard resort.
A skilled designer will tailor your pool's size, shape, and location to create a body of water that's appropriately scaled and fitted to its surroundings.
As your pool plan develops, you'll discover a full menu of features that contribute to a calming experience. They do so by creating extra comfort and convenience inside the pool water.
Options include strategic seating for a variety of quality activities.
For example, you can include a bench or loveseat. At 18" inches deep, one of these structures is ideal for relaxing and as a welcome rest perch when swimming laps or wading in the deep end.
Today, many pools provide a modern variation of these structures with an extended second step that forms an elongated bench.
Another increasingly popular feature inside the pool is a tanning ledge (also known as a sun shelf or Baja bench). Typically, at 6 to 9 inches deep, you have an ideal spot to lounge partially submerged in the water or to place a chaise lounge right in the water.
Another way to make the pool more relaxing is with features that allow you to remain in the water longer. With a swim-up bar or an in-pool dining table with stool or bench seating, you don't even have to exit the cool water to drink or enjoy a snack.
Of course, you can also include the king of all pleasure-based pool features: a hydrotherapy spa with bubbling hot water to melt away the day's tension. It can also provide the perfect backdrop for a little evening romance.
Water in motion
Swimming pool water features deliver a home run for calming the senses. All kinds of these decorative additions provide both soothing sights and sounds of moving water.
A perennial favorite for a backyard pool is a rock waterfall in faux or natural stone. Because each is a custom-crafted configuration, the range of dimensions, style, and appearance is vast.
A rock waterfall is a particularly good choice for a pool and backyard with a tropical, lagoon aesthetic.
But you have other options in lieu of a waterfall or in addition to one. Among them: cascading falls, spa spillovers, spraying deck jets, sleek arcing laminars, and bubbler fountains.
To elevate the level of tranquility and sensual atmosphere in your outdoor space, you also might splurge for highly specialized water elements.
One is a mesmerizing infinity pool with a "disappearing" edge that visually blends into the horizon. Or, a reverse infinity pool.
In this newer kind of configuration, the special "vanishing" wall over which pool water flows is built in full view. The stylish "wall of water" wall is decked out in distinctive tile or stone that faces the home or patio area where everyone can appreciate its pleasing good looks and sounds.
Another custom option is a water feature installation with copper or stainless-steel metal spouts and scuppers. A series of these gorgeous accessories are mounted into a short wall above the pool, and thin, uniform streams of water flow onto the surface below.
Other appealing options include a jaw-dropping full-perimeter rim-flow spa or an architectural "rain curtain" that towers above the pool surface.
Planting persuasions
While water features in and around your pool certainly enhance the mood and backyard aesthetics, you can also keep the zen flowing beyond the water's edge.
Including landscaping around pools and adjacent spaces is one of the best ways to create a relaxed setting, especially during daylight hours.
The presence of grass, shrubs, trees, and flowers evokes an immediate connection to nature and the comfort found in green havens of all types.
Your property might include planted hillsides, expansive lawns, stands of shade trees, privacy screens of hedges, ground cover, or flower gardens. (And yes, to some golf aficionados, a mini astroturf putting green might qualify for "landscape.")
From lush tropical settings to classical, European-inspired structured gardens, there are landscape plans that can meet almost any aesthetic preference and design motif. Even in desert regions, you have drought-tolerant xeriscaping.
Plants participate in the ecosystem and will naturally attract insects, birds, and other critters. Flowering plants add color and fragrance.
You can also take greenery right up to the water's edge and help break up the expanse of hard decking. Ask your pool designer about incorporating several planters and landscape pockets directly into the design along the pool perimeter.
Another way to have plants contribute to the tranquility quotient is to weave them into arbors, pergolas, trellises, gazebos, and similar garden structures.
Fire form and function
When planning a comforting—and even romantic—outdoor setting, nothing beats the glow of fire in the outdoor air.
Just as we are instinctively drawn to water, we are transfixed by fire. The warmth and hypnotic dancing flames always reward the mind, body, and spirit. You can add this element in several ways.
Ÿ Traditional fire pits remain popular options, creating gathering places and focal points within the landscape.
Ÿ Outdoor fireplaces with chimneys set the scene for a cozy environment.
Ÿ Fire bowls mounted on pilasters, steps, walls, decking, and pool edges are popular options for accentuating and enlivening outdoor aesthetics.
Ÿ Tiki torches add light and panache to any backyard.
Ÿ Newer LED fixtures imitate fire's form and movement—without an actual flame.
Light and color
Speaking of LEDs, landscape and swimming pool lighting have dramatically evolved in recent years. Today's technology has made outdoor lighting more colorful, affordable, lasting, and energy-efficient.
LEDs produce a range of vibrant, jewel-tone colors in addition to sedating whites and blues. With the touch of a button or an app on your phone, you can produce a variety of colors on command to illuminate your pool and landscaping.
Now programmable and adjustable, these systems are more convenient than ever. You can schedule the lights to come on at a certain time each day. You can set colors so they remain static or continually transition.
Best of all, you can activate dynamic "light shows". Quality pool LED systems come with a series of themed, pre-programmed light shows.
For example, one show, called "Twilight" displays 1500 ever-changing colors. Another, called" "tranquility" provides a mix of calming blues and whites.
Sound sensations
When it comes to achieving a serene environment, don't forget your ears. The right kind of music and the sounds of nature will enhance your experience and help tune down your nervous system.
If you have included sound-producing water features around your pool, then you'll be ahead of the game already. But you indulge your ears even more with some help from technology.
Like all forms of consumer electronics, today's outdoor sound systems are smaller and more powerful than ever.
With distributed and easily hidden speaker systems, an outdoor device can provide whatever high-quality sound you want anywhere and everywhere
With online streaming services, you can play relaxing music such as classical works, soft jazz, new age sounds, or upbeat Caribbean tunes.
Along with the entire universe of music available, you can also add the sound of wind chimes, ocean waves, the rainforest, chirping birds, or a babbling brook.
Shady escapes
While enjoying a sunny outdoor environment is the goal at hand, on a hot day, no one wants rays beating down on them non-stop.
For that reason, be sure to plan for shady spots to escape to when the mercury climbs. Ideally, these will include at least one pocket of shade within the pool itself.
One of the simplest, most affordable approaches is a patio umbrella. During pool construction, your contractor can install a sleeve for an umbrella pole directly into a pool tanning ledge or along the perimeter pool coping over a bench or the spa.
With a bigger budget, you can have a grotto. This specific kind of waterfall configuration forms a cave-like niche below and behind its cascading water. The result is a cool, secluded rest area without ever stepping out of the pool.
Is a swim-up bar in your pool plan? Elaborate ones include various kinds of roofs or overhangs that block some of the direct sunlight on the bar counter.
Right for you
With so many options to consider, creating a restful pool setting means making the choices that best suit your tastes and your budget.
Keep in mind, many of the options here can be automated. With a good pool automation system, you can control your backyard experience—from activating water features to running the filtration system—via PC, tablet, or smartphone. Or even with voice command. How easy is that?
With that convenience comes the ability to kick back, indulge your senses, and derive maximum pleasure from your aquatic retreat. Quiet rejuvenation can lie just a few steps from your back door!