Why it's a mistake to wait until after your pool is complete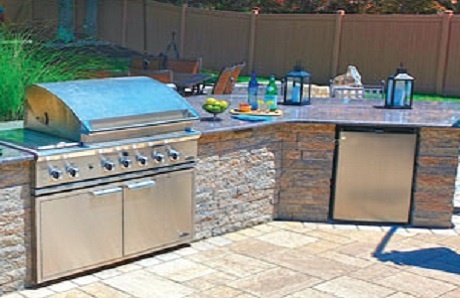 Don't delay that island barbecue! Once construction of a pool and deck is complete, it can be more difficult, stressful, and costly to add features like a built-in grill and to attain your ideal backyard style and function.
Question: You're splurging on a new swimming pool and are considering amenities like an island barbeque grill: Do you incorporate the grill at the same time as your pool—even if it stretches your current project budget—or, do you wait until the future to make the additional investment?
Delaying the grill might be easier on your wallet in the short run. After all, you will be laying out quite a bit for the new pool. Adding the grill to the current project mix may be a stretch.
However, postponing grill installation may cost you more in the long term—both financially and in other ways. The smart move is to combine the grill with your pool plan. There are several advantages for doing so, which are outlined here.
To help you appreciate the benefits of synchronizing pool and grill construction schedules, it's important to understand the basics of island barbeque configurations and features.
Island barbeque grills: A quick overview
Styles of island barbeques—and the components with which they can be assembled—run the gamut.
A simple unit might feature an 18" grill in a modular island with a countertop. An upgraded one may include a small sink, mini fridge, and/or an extra counter that forms an L-shaped configuration.
An elaborate installation might include a wider grill and additional features like a drink chiller, rotisserie, and stovetop burners; it might also be shaded beneath a structure like a gazebo or pavilion.
Beyond the basic modules and the functional features, there are the aesthetics. With an island grill, you have the ability to customize its appearance with various materials for the exterior surfaces. For example, you can pick tile for the countertop and stone to cover the sides.
While island grills afford superb design and operational flexibility, the various elements and accessories do mean that installation is more involved. From material selections to utility lines, these built-in structures require good planning and several stages of construction.
1. Expand your design choices.
Planning and building an entire outdoor living space in one fell swoop has distinct benefits. One is how doing so ensures greater opportunities for achieving a cohesive backyard setting that best suits your aesthetic preferences and your family's lifestyle.
Before a new pool goes in, you have broad flexibility for your backyard's overall layout, landscape, hardscape, amenities, style, and more. You and your pool designer can consider various ways to incorporate every outdoor feature you want and the overall style you desire.
Functionality is important too. You want to strategically position your amenities, such as the pool, decking, walkways, seating areas, and cooking and entertaining facilities. Placement of each is critical for good "flow" so that people can safely and easily circulate around the backyard and enjoy all that it has to offer.
Carefully blending your grill's design and configuration into the master backyard plan will deliver a better result. Assembling and positioning all of your desired elements at once helps ensure a practical, seamless layout that capitalizes on a wide array of variables.
Among these variables: views, fences, privacy, utility hookups, existing landscaping, yard slopes, total available backyard space, and side yards and gates. A few others that can come into play when picking the best spots for a new pool and for a grilling area are proximity to your home's entrances, kitchen, restroom, and backyard-facing windows.
However, waiting until a new pool and deck is complete narrows your backyard design options. If a grill was not included from the get go, there may be obstacles to where it can go in the future.
Once built, structures, utility lines, decking, steps, pathways, and other additions may be challenging or costly to alter to accommodate an island grill. Or, landscaping—that you would hate to rip out—could be in the way.
If there is available space for a grill in your yard, it may not be where you would like it. Or, it may be where you want it, but there is not enough of it for the large L- or U-shaped grill configuration you like.
Maybe space is not a problem—but utility access is. While your pool was being built and a trained professional had access to the gas line, you might have had the choice of natural gas or propane. (Natural gas is more popular; cooking with it can be healthier and more affordable than propane.)
However, now the gas lines are covered, you may be let down: propane may be your only practical option. Without massive cost and disruption—like ripping up a pool deck—uncovering the gas line may not be feasible.
Get the design and functionality you want by planning ahead. Integrate your grill in your home's exterior design plans, and build it at the same time with your pool and any other backyard upgrades.
2. Avoid extra hassles.
It's no secret that building a swimming pool—with its major and multiple construction phases—will make your backyard a mess for a while. Include landscaping and a new deck, and the hassle factor increases.
To minimize the impact on your home and family, seize opportunities to streamline the process for all of your backyard additions. That includes an island grill.
Depending on its complexity and features, your grill configuration may require several construction phases.
Typically, these phases include installation and hook up of gas, plumbing, and electrical lines.
In some cases, crews will need to dig trenches in a yard to obtain access to the nearest gas, water, and electrical supply lines. Other phases may include tile application and masonry.
Each of these phases requires a specialty trade. That means various dedicated craftsmen— some of whom must be licensed—such as a gas specialist, a plumber, an electrician, mason and/or tile applicator.
While the end result will be worth it, the process can be rough; it's no fun having work crews filing in and out of your yard on multiple days. Not only can that action in your yard disturb you, it may do the same for your neighbors.
But consider this: The expert trades required to build your inground pool include gas, plumbing, electric, tile, and masonry. Sound familiar?
They should. The professionals who play designated roles in pool construction are the same ones with similar roles—albeit on a much smaller, simpler scale—to install island grills.
So, why tolerate another round of construction at your home? Take advantage of the pros who will already be on site building your pool. Use them to install your island grill without an extra visit.
Elaborate island barbecue grills can take up to a week to complete. Tearing up part of your backyard again, as well as having the crews come out again is a pain. Make life easier: Install the complete package in a one-and-done shot.
With your new backyard complete, you can fire up the grill, and invite friends over to take in some sunshine, swimming, and barbecue. You'll be happy that you can use all of your new amenities.
In addition, you will be relieved that you don't need to research and negotiate with a separate grill contractor—and that no more backyard work will be needed!
3. Reduce project costs.
A major benefit to installing your island grill at the same time as your pool is the overall price tag. You can screen, interview, and hire separate contractors for each project, and pay each separately. Or, you can use a single one, save time, and get a better price.
If given a larger, higher-dollar backyard project, most pool builders can maximize resources and efforts that will already be going toward pool construction. Their efficiencies of scale can mean savings for you.
For example, your pool builder must become familiar with your backyard. They will thoroughly survey the outdoor space, researching factors such as utility line locations, building codes, soil and grading, access for heavy machinery, and other variables that impact construction.
Armed with this knowledge and facts, it's a snap for your builder to plot an efficient course for the design and installation of your island grill.
More importantly, your pool builder can leverage labor costs. Since your builder is already scheduling various tradesmen to work at your home, they have an edge. It's more cost-effective for them to arrange each phase of work using crews already on site than it will be for another company you hire—solely for your island grill—to send out the crews for each trade.
Using your pool builder for your grill may cut prices for another reason. With the grill component bundled in, your builder will be enjoying a bigger-ticket contract from you. Perhaps a discount could be had; it's certainly worth asking them to knock off a few bucks for expanding your pool project to include an island grill.
4. Hide utility hook ups.
Another advantage to simultaneously building your grill and your pool comes down to appearances. It's all about those utility lines, which can be real eyesores.
The solution lies in effectively hiding all gas, plumbing, and electrical hook ups before the pool deck goes in. Let's repeat: Before the pool deck goes in.
While licensed professionals are on hand for your swimming pool, they can easily hook up the various utility lines needed for your grill and all of its components.
Later, these lines can be hidden under a new pool deck. Whether wood, stone, concrete, pavers, or other material, the decking covers the lines. Without the visual blight, your patio and grill area will be more attractive, and you'll appreciate that for years to come!
5. Match building materials.
With all the work going into your home's new exterior, you will want every detail to look great. To do so, you will choose decorative materials from a variety of tiles, stone, shapes, colors, and more.
Think about harmony among these elements. The ideal way to achieve a uniform, distinguished style is to coordinate material choices throughout the outdoor space.
What better way to take advantage of pool construction than to match pool materials with those for your island grill. One favorite approach is to use the same tile selection for your pool perimeter as the tile on the island countertops.
Another great way to harmonize elements is by using the corresponding stone material for the pool coping (the exterior border around pool perimeter) for your grill's façade.
Matching the island's façades with the pool and/or deck materials is much easier when you have one contractor for both projects. Unification is the key here. You will order the stone and/or tile at the same time, and it will come from the same batch for a perfect match of color, shape, and texture.
Building the island grill and pool at once ensures that the exact tile or stone is used on both features. If you wait to build your grill until later (and do so without ordering the matching tile and stone to store and use at that time), you run the risk of the identical selection no longer being available. Having to use another choice could wreak havoc on your quest for a clean, consistent design.
The Takeaway: Complete your backyard makeover as one project
Your dream backyard can be become a reality if you plan accordingly and make construction easier on your yard, life, and wallet. The best way to handle this process is to install the island grill at the same time as your pool.
Before finalizing the plan with your pool builder, consult with them about the best process for installing both. Together, you can work to find an arrangement within your budget.
You might even be able to cover the cost of an island grill with a loan for a new swimming pool. Keep in mind that if you wait until pool construction is complete, it can be difficult to find favorable finance terms for the grill by itself.
Completing the entire scope of work at one time will pay off. Plus, you can immediately begin entertaining friends and family—without any worries or question marks about further construction!