Can't make it to that destination spa, tropical resort, or the water park your kids have been begging to visit?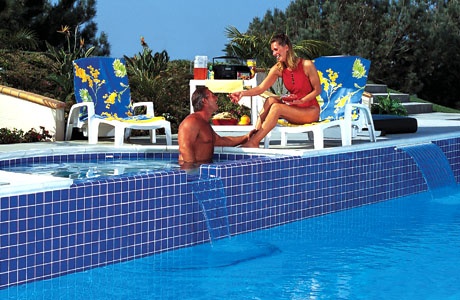 Whether for relaxing, entertaining, or exercising, your home's swimming pool can provide the perfect environment for a staycation that's a worthy alternative to a traditional getaway.

Ready to start planning your poolside staycation? Let's take a look at some simple, affordable ways to make the most of a "holiday" in your own backyard.

1. Chill out in tranquility.

Ditch your laptop and cellphone, and indulge in some serious "me time." Imagine your backyard and pool are at a far-away spa retreat, and make the most of them.

Listen to the gentle, soothing sounds of your swimming pool fountains or water features. Take in the serenity, and love doing nothing—or close to it. Breath the fresh air, sip a cool drink, lie under a patio umbrella, and read a classic novel, your favorite gossip magazine, or your pick off the bestseller's list. For more activity, do some yoga moves by the pool or in the water; stretch, unwind, and recharge.

2. Take in the sun—while keeping cool.

For many, taking full advantage of great weather includes lounging in the sunshine. With a staycation—or "poolcation"—you get to do it in private.

Lie poolside, or take your sunbathing to the water on a floating lounge chair. Better yet, if you have a tanning ledge in your pool, you can appreciate the cool water mixed with the warm rays while getting that perfect tan. Of course, be sure to indulge in moderation, and apply—and re-apply—a high SPF sunscreen to prevent burning.

3. Throw a pool party.

Sometimes you want to share your staycation fun with others. Hosting some "liquid festivities" is one way to include friends in your virtual retreat.

Pool parties can be casual daytime events with a mixed crew of kids and grownups hanging out and playing a range of pool games. Or, they can take the form of an evening, adults-only cocktail soiree where your pool serves as an elegant backdrop for food, drinks, music, and good conversation.

4. Make time for romance.

Escape from work, the kids, and other distractions, and focus on genuine quality time with your partner. Turn up the romantic volume by setting an intimate stage to spend the evening: Create the right mood with soft background music, and set out some floating candles or pool lights on the water surface.

Chill a bottle of wine or bubbly, or prepare finger food like chocolate and strawberries that you can feed to one another.
5. Get your grill on.

Pools and backyard cooking go hand-in-hand. Whether you prepare your meal on a portable hibachi, an island BBQ, or a full outdoor kitchen, there's something special about the smells and flavors of food right off the grill.

Invite your friends, and go all out with your spread: Consider marinating your meat ahead of time for even better tasting dishes, and don't forget healthy options—slice up veggies like tomatoes, potatoes, zucchini, or asparagus to grill. With a little oil and spices like cinnamon, you can even make a low-calorie treat of grilled peaches, bananas, apples or pineapple rings.
To check out great pool designs that offer great poolside staycations Click Here.