—5 smart tips for a successful holiday event around your swimming pool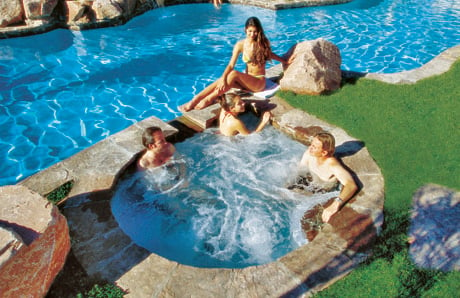 —Updated July 11, 2018
Throwing a backyard swimming pool party is a great way to celebrate Labor Day. If you want to host one, plan ahead so that everyone can enjoy not only a good time but also a safe time.
Most pool parties go smoothly. However, there can be hazards—from someone running and slipping on a wet pool deck to a guest driving home after too many beers. Smart party planning can help minimize risks. Here are just a few ways to enhance safety at your holiday gathering.
1. Determine what kind of party—and guests—you will host.
For a Labor Day pool party, the event typically is either an adult-only affair or a family event with children. Your choice here will impact the planning, particularly when it comes to supervising children in and around the pool. Unless you are confident you have enough responsible adults committed to careful supervision, it is not wise to include children.
The size of your party is also important. The more guests, the more details need to be covered to reduce opportunities for mishaps. Particularly if this Labor Day event will be your first time hosting a backyard party, you may want to keep the guest list on the shorter side for better overall management of the activity.
2. Emphasize pool safety at the outset.
Along with your event invitation (or in a separate email you send out later), share your desire that everyone has a great time at your party while keeping safe. Include written safety guidelines for pool use, and ask guests to review them with their children in advance of the party. When people know in advance what to expect, gaining their cooperation on party day should be easier.
Then, when guests arrive at the party, remind them about safe behavior. For example, you could point out your posted "swimming pool rules" sign, or hand guests a flier that lists the most important safety rules. For ideas and resources, visit websites like poolsafely.gov, healthychildren.org, and the American Red Cross.
3. Provide formal, scheduled pool supervision.
In a party atmosphere with multiple guests—and possibly alcohol—pools open the door to lots of fun, but also some risks.
If children are involved, protective measures become even more important. Nothing substitutes for attentive adult supervision! Let's repeat that: Nothing substitutes for attentive adult supervision! And "attentive" does not mean sitting down to eat and socialize while casually "keeping an eye on the kids."
What works best is assigning responsible adults to specific supervision shifts, usually in blocks of 15 to 30 minutes. Create a written schedule in advance, and thoroughly communicate the schedule. Emphasize that when on duty, the supervising adult must focus on watching and listening to the activities in the pool—and nothing else.
4. Limit the alcohol—or skip it altogether.
Whether or not alcohol will be available at your pool party is an important decision that impacts your pool party environment and the behavior of your guests. If you elect for alcohol, use strategies that promote moderation.
For example, you could limit options to wine and beer, or even fruity sangrias. For wine, you could even go with very low-alcohol, lightly sparkling selections such as Moscato or Brachetto d'Acqui—which are also ideal for a hot day.
Offer plenty of non-alcoholic options—not only soft drinks like soda, but attractive alternatives like non-alcoholic beer, fresh-squeezed juices, or bright, festive mocktails (non-alcoholic cocktails).
Another tactic: Help avoid guests drinking on an empty stomach by either presenting tasty appetizers as soon as they arrive or by serving the meal before bringing out the alcoholic beverages.
5. Keep an emergency kit and equipment on hand.
If you do not already have a pool emergency kit and equipment ready and in place, a pool party is a great reason to prepare these items (and then keep them permanently on hand). Should a dangerous situation arise or accident actually occur, having a kit and equipment will make responding easier and likely more effective for someone's health and safety.
At a minimum, the American Red Cross suggests a first aid kit; life jackets in several sizes; a whistle to alert everyone to an emergency/potential problem; a reaching device (e.g., rescue tube; a shepherd's crook with rescue hook; a pole with a soft grab area or loop at one end); a throwing device (e.g., foam-ring buoy). It's also smart to keep a landline phone; nearby that's pre-set with emergency information.
Remember, a little planning and coordination can go a long way to making your Labor Day pool party a smooth-running affair that's nothing but enjoyable for everyone.