Part 2 of 2: Is a beach entry right for your pool?
Part 2 of 2: Is a beach entry right for your pool? UPDATE
Since our last post on beach entry swimming pools and if they are a fit for your new backyard resort, interest in them grows. One reason why is how they make it easier for some individuals to access pools and enjoy them.
This design feature can be a great choice for families with members who have physical disabilities or mobility issues. Whether permanent or temporary—such as someone recovering from an injury—these challenges can make it difficult or nearly impossible to actually get into the pool water and enjoy its benefits.
However, substituting traditional stairs with a beach entry makes pool access easier for those with difficulty raising their legs, bending their knees, or stepping while simultaneously grasping a handrail. For small children, a beach entry can also be easier than steps.
Along with making physical access easier, a beach entry pool may decrease psychological barriers to access; the beach entry's gradual slope into deeper water is less intimidating. The ability to more slowly, progressively enter the pool can be appealing to a child, someone learning to swim, or anyone trying to tackle their fear of the water.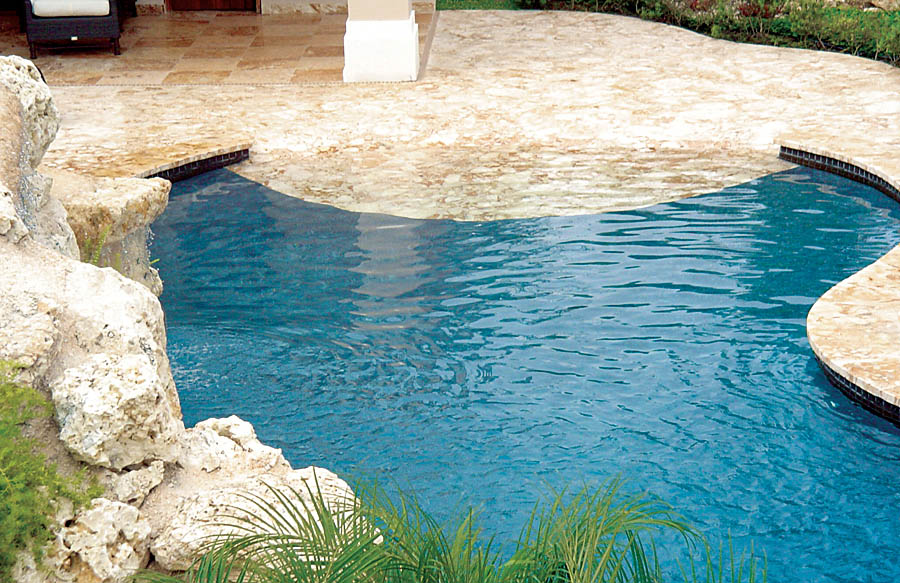 For those with mobility challenges, this beach entry pool offers an easier transition into the water coupled with extra stability of a handrail.
When considering a beach entry for your backyard resort, there are several factors to consider and discuss with your pool builder.
One is the size of your pool. That's because this special design element will gobble up a significant amount of length in order to reach the pool bottom. Certain factors—such as the shape of your pool and the width of the beach entry—can influence the final amount of length that is required.
Another consideration is your pool's desired functionality. For example, if sunbathing is a key reason for wanting a beach entry, a better—and more affordable—alternative exists: A tanning ledge (also called a Baja Bench or Baja Step) requires much less space and is much better option for a smaller pool.
Your pool decking is another factor. When constructing a beach entry, certain kinds of material do not work well for the deck—which must merge directly into the pool. For example, decorative pavers make it difficult to achieve a smooth transition from deck to beach entry.
Of course, your budget should also be taken into account. A beach entry will increase construction costs. Depending on the area of the country where you live and variables such as the size, style, and material used in your pool and deck, a beach entry may run $3,000 to $7,000.
Think about style as well. If you want the overall look of your new pool to be sleek and modern, then the natural appearance of a beach entry makes little sense.
The best advice is to discuss a beach entry with your pool builder. Bring it up in the context of all the other design and function goals you have for your pool, as well as your budget.