Design features that bring the bling and deliver celebrity style—without a superstar budget
To make a bold statement, your new swimming pool doesn't require over-the-top bling like a $100,000 custom granite rock waterfall, a 50-foot water-park-style lazy river wrapping around your entire pool, or a retractable dance floor that extends across the surface.
Nor does it need a massive natural grotto like the one at Playboy mansion. It doesn't have to be shaped like a piano like Liberace's famous 1950's pool.
And there's no directive that it be five times larger than the neighbors' pools—like the
mammoth one
that Kanye West and Kim Kardashian are building today at their multimillion dollar estate.
To be impressive, what your pool does need are upscale features that are affordable. And to get you started on a new backyard resort that's the talk of the neighborhood—without an extravagant budget, we're outlining three popular design options to do the trick.
These upgrades and additions work best for those with a mid- to upper-mid budget for a new pool. If you want that extra impact, then yes, you will need to kick in some extra investment to get the job done.
However, as you will see below, there are beautiful pool enhancements available that typically run under $3,000—and sometimes as low as $500. That means you can get A-list style without Rodeo Drive prices.
Keep in mind: Like a new home, the cost of a new inground pool varies significantly from one region of the country to the next. The prices on features and materials also vary; the prices given below represent typical ranges across the U.S. To get a feel for appropriate pricing in your local area, obtain bids from several contractors.
Let's look at how you can make your neighbors jealous with distinctive features that don't require a celebrity-size wallet.
1. Pattern Pool Mosaics: Giving a Fun, Personal Touch
The incredible Neptune pool at Hearst Castle has its share of hand-laid black tiles creating sophisticated mosaics that help make it the most-photographed pool in the world. Custom tile work like this would cost many times more than your entire swimming pool.

But pre-fabricated tile pool mosaics do not. They're a bargain. For as little as several hundred dollars, pre-made patterns can add color, whimsy, and personality to your new pool. Using a template design pattern and small porcelain tile pieces, these arrangements are configured for affordable style and easy installation by pool builders.

Just like celebrities have their own brand, you can use pool mosaics to personalize your backyard resort. From mermaids to sports team logos, the choices are vast. Among the most popular are sea creatures such as fish, crabs, starfish, sharks, dolphins, turtles, octopuses, and many others.

You can also have designs representing nature such as shells, coral, palm trees, and ocean-reef plant life. For a sophisticated appeal, consider a figure from Greek mythology, a monogram-style initial of your family name, or a classy symbol like a compass or Fleur de Lys. View more examples here.

For a small mosaic arrangement like the turtle family shown here, expect to pay $500 to $1,000 for the final installed product. For mid-size designs added to the pool bottom, the range is the same. Larger, more elaborate configurations typically run $1,000 to $2,500.
2. Iridescent Glass Tile: Creating a Glistening Show of Lights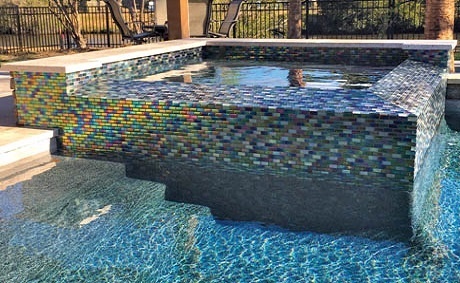 One reason why we love celebrities is all the glitz and glamour surrounding them. You can create a bit of that shimmering allure in your pool by upgrading to iridescent glass tile.
This specialty tile offers stunning good looks. Watch the sun light dancing off each piece, reflecting colored rays in all directions. The sparkling imagery creates a captivating experience.
It's important to note that this lustrous effect does not occur with all kinds of glass tile. To achieve the almost kaleidoscope-like effect where the colors appear to change when viewed from different angles, you want iridescent tile. It will cost more, but the gorgeous effect is worth it.
Iridescent tile comes in variety of cuts and finishes. Colors include a full range of blues and aquamarines, as well as golds, ambers, whites, and even reds. Selections come in solid colors, as well as mixed patterns, like the one pictured here.
Wealthy homeowners occasionally build a new pool with the entire surface covered in this luxury tile. To do so, does require a celebrity-size budget. But the approach suggested here is to use the glass tile selectively, only to replace the ceramic tile that would normally have been included with your new pool along the tile line that runs around the interior perimeter.
While using the upgraded material for the tile line is a popular approach, you can ask your pool designer for other ideas to use small amounts to accent your pool; based on its shape and features, there may be creative alternatives to incorporate the tile and accent various features. One strategy, as shown here, is to cover the exterior of the spa with the luminous tile.
Based on the individual product and manufacturer, the price tag for iridescent glass tile varies a great deal. For a typical size pool—90-perimeter feet (a 15' x 30' rectangle)—some glass tile options could run as low as $1,000 to $2,500 installed.
Particularly in colder climates, some pool builders will use only top-quality brands of glass tile to help ensure long-term durability without issues. Premier brands can run much higher, and in these cases, it's not unusual for the upgrade to run north of $5,000.
3. Fountain Statuary: Adding Character, Sound, and Motion
Nothing cries elegance quite like statues. There's just something about the classy, old-world confidence they convey. Whether you include a grand figure from Greek mythology, a sea creature poised to leap into the water, or graceful birds wading through the shallows, a statue around a pool commands attention.

Accenting your backyard resort with a single large one or a grouped ensemble will elevate the style of your outdoor space. Best of all, you can pick a figure that sets the tone for the kind of ambiance you want for your backyard.

Dolphins are among the most popular statue for a pool, and they impart a more playful appeal. For a more stately drama, consider options like Neptune, the Roman God of the Sea, or a distinguished, imperial lion.

The crowning touch is to turn statuary into a water feature. As long as the figure is hollow, your pool builder can plumb it with a special device to create a laminar water jet to emanatefrom inside. The resulting stream of water flowing into your pool looks lovely, and it also creates gentle sounds—broadening the sensory appeal of the decorative feature.

Although there are expenses involved in outfitting the statue with a water feature function, the key cost is the statue itself. The most affordable approach is to choose a miniature figure that's less than 2 feet in height and diameter, such as a fish, turtle, or urn-style vase. Purchase and installation will run around $500.

However, for real star power, you will want a statue at least four to five feet in height. Prices for free-standing versions run the gamut—influenced by factors like size, quality, and complexity of the design. For the final product to be installed as a functioning water feature, expect to pay $1,000 to $3,000.
Pool Style within Reach
So now you know: It's absolutely realistic to add some showbiz pizzazz to your new pool, and in most cases, to do so for a few thousand dollars extra. A variety of design options and upgrades can be had with a "real-world" swimming pool budget.
To obtain specific pricing for the great options showcased here, contact your local Blue Haven Pools office for a free in-home estimate and custom design.